Details
Tournaments and Titles
The 2007 Australian Chess Championships will be conducted as four separate main tournaments, from which twelve titles will be awarded.
Under 18 Open Tournament (for male and female players born in 1990 or later)
Titles:
Australian Junior Open Champion
Australian Under 16 Open Champion
Australian Under 14 Open Champion
Under 18 Girls Tournament (for female players born in 1990 or later)
Titles:
Australian Girls Champion
Australian Under 16 Girls Champion
Australian Under 14 Girls Champion
Under 12 Open Tournament (for male and female players born in 1996 or later)
Titles:
Australian Under 12 Open Champion
Australian Under 10 Open Champion
Australian Under 8 Open Champion
Under 12 Girls Tournament (for female players born in 1996 or later)
Titles:
Australian Under 12 Girls Champion
Australian Under 10 Girls Champion
Australian Under 8 Girls Champion
The Under 18 Open division will be FIDE rated.
Subsidiary events (held on main tournament rest days) include LIGHTNING, RAPID PLAY and PROBLEM SOLVING tournaments.
The tournaments are open to all players (subject to age and gender), but eligibility for titles is restricted to Australian citizens and permanent residents of Australia.
Rules
The FIDE laws of chess and the Australian Chess Federation's by-laws for Australian Junior Championships will apply. Note that the FIDE laws include the requirement that all players record their games in the main tournaments (but not in the Lightning and Rapid Play tournaments).
Play-Offs
In the event of a tie prize money will be shared. Play-offs for titles, if necessary, will be held immediately after the last round (with reduced time limits).
Entries
Entry fees (including GST)
Under 18
Under 12
If received by Monday 17 December
$70
$60
If received by Monday 7 January
$80
$70
If received after Monday 7 January
$95
$85
(Note the 'early bird' discount and the late entry penalty)
Entries should be made on the attached entry form, which should be endorsed by an official of the entrant's state association or Junior League* and sent with payment to:
Australian Junior Chess Championships
NSW Junior Chess League
PO Box 262
Penshurst NSW 2222.
(Cheques should be made payable to NSW Junior Chess League)
* Endorsement is not required for entrants who have played in previous Australian Junior Championships – such entrants should indicate this by writing in the endorsement section of the entry form: "Previous AJC participant " followed by the city and year (e.g. "Canberra 2007").
Note: Entry fees for the optional Lightning, Rapid Play and Problem Solving tournaments ($10, $20 and $15 respectively) are payable when entries are taken at the venue just prior to these events.
Venue
The Carter Study Centre,
Cranbrook School,
New South Head Road, Bellevue Hill.
(between Victoria Road and Rose Bay Avenue)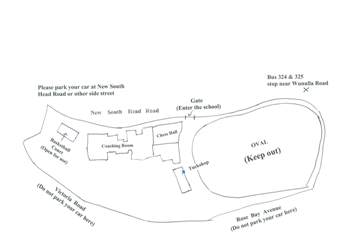 Basic map of venue (click for a larger image)
The school is 2km from Edgecliff railway station which is about 5 minutes by train from the city centre. There is a frequent bus service along New South Head Road from Edgecliff station and the city. (Alight at bus stop just before Wolseley Road traffic lights – next stop after Woollahra Council and Library.) Ample parking is available in nearby streets (but not within the school grounds).
A canteen will be available for lunch and light refreshments.
Time Limits
| | | |
| --- | --- | --- |
| Under 18 Tournaments: | | 90 minutes + 60 seconds per move (from the beginning) |
| Under 12 Tournaments: | | 60 minutes + 60 seconds per move (from the beginning) |
| Lightning Tournaments: | | 5 minutes (for the entire game) |
| Rapid-Play Tournaments: | | 20 minutes + 10 seconds per move (from the beginning) |